Keynote: Promoting the value of Business Analysis: Breadth & Depth
Vortragender: Adrian Reed, CBAP
Sprache: Englisch
Zeit: 10.05.2014 09:00-09:45
Keynote
Business stakeholders don't always understand the need for good quality Business Analysis on their projects. The BA discipline is so broad yet it can be difficult to articulate the value that we add. There are many commonly held myths about business analysis:
Anyone can do it
BAs are "bureaucrats" who stop or slow down change
BAs are "just for the IT requirements"
In this presentation, Adrian Reed will discuss some of these challenges and will start to discuss how they can be overcome. He'll share practical tips and tricks that can help us to ensure our stakeholders understand the true nature of the BA role. During the presentation, you will hear
Tips and tricks on how to get early engagement on projects
How to deal with skeptics who might not want a BA on a project
How we could use a visual metaphor to show the breadth of BA value
Adrian Reed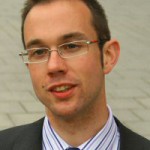 Adrian Reed is Principal Consultant and Director at Blackmetric Business Solutions (www.blackmetric.co.uk), where he provides business analysis consultancy and training solutions to a range of clients in varying industries. He speaks internationally on topics relating to business analysis and business change, is President of the UK chapter of the IIBA, and a true advocate of the analysis profession. He is constantly looking for ways of promoting the value that good analysis can bring, and is a firm believer that if a project has both a good BA and a good PM, that it is much more likely to succeed!
You can read Adrian's blog at www.adrianreed.co.uk and follow him on Twitter at twitter.com/UKAdrianReed.